Property Name: Abi Trieste Plot W126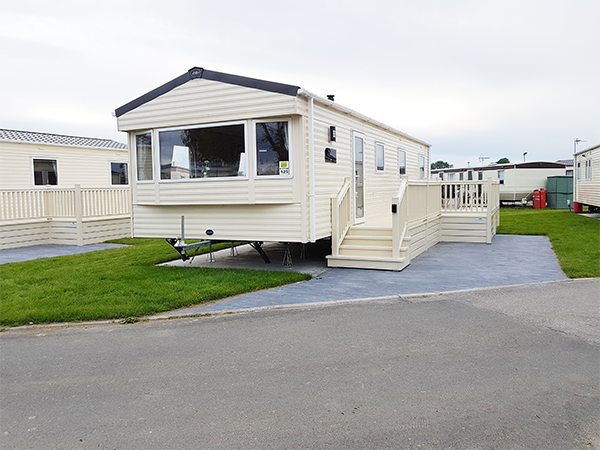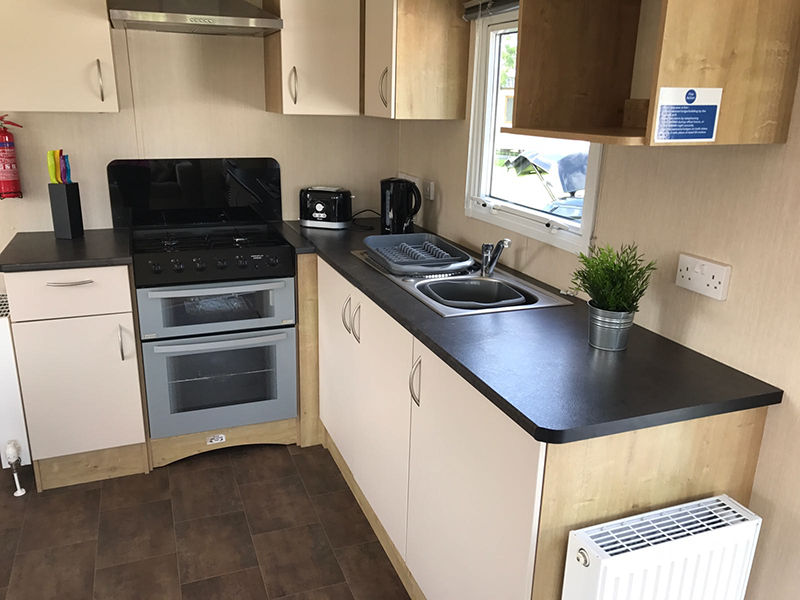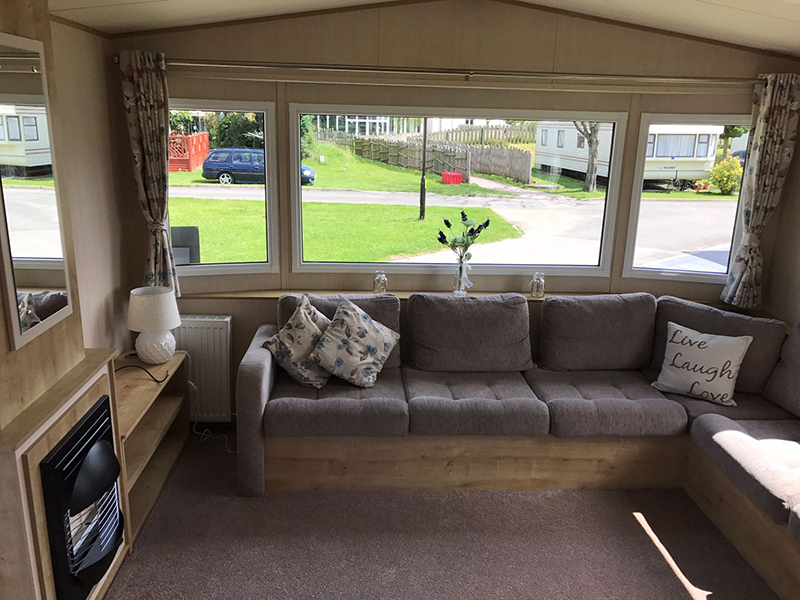 Property Size: 36ft x 12ft
Bedrooms: 3
Max Occupancy: 6
Pets Welcome: NO
Children Welcome: YES
Same Sex Groups: YES
Smoking Allowed: NO
This holiday home is sited on the tranquil Woodlands site close to the swimming and leisure complex and just a 10/15 min walk to the reception area, shop and main theme park. There is also a free shuttle bus that circulates frequently.
Sleeps 6 in 3 bedrooms. The spacious open plan living room provides plenty of room for all the family to relax together. Fully central heated with a gas fire in the lounge for extra warmth if needed. The fully fitted kitchen comprises of a full-size gas oven and hob, fridge/freezer, microwave oven, toaster, electric kettle, cutlery, crockery, cooking utensils, vacuum cleaner, iron and ironing board.
A fire extinguisher, fire blanket, first aid kit, carbon monoxide detector and smoke alarm are provided for your safety. Outside is a decking area where you can relax and soak up the sun. Security lighting is activated when approaching the door and gas and electricity are included in the price. Bedding supplied but you need to bring your own towels and tea towels.
We require a deposit of £100 to hold the booking and unless requested and the deposit is non refundable should the trip be cancelled.
Additionally we require  £100 bond which will be returned to you so long as the caravan is left in a clean and tidy state and free of breakages. Your remaining balance can be paid at any time up to six weeks before arrival and incremental payments can be arranged.
Flamingo Land is a family orientated destination and will only allow lets to families of up to six people (seven if the group includes a child under the age of 2). 

Frances Smith
The caravan I booked was clean comfortable everything we needed for our weekend away that we all enjoyed hope to go back again

Kelly Blinko
The caravan was immaculately clean, modern and lovely and cosy! It is situated a few minutes to the park and was directly opposite the leisure centre!! The kids had a fab time and so did the adults we will definitely be booking up again next year!!!!

Chris mccartney
Excellent from start to finish would use again and recommend. Have 2 young kids under 3 both enjoyed it aswell 5 stars

James Stark
This was my first time opting for a private lease as opposed to via the resort. Nigel provided guidance every step of the way and put any concerns I had to rest. The holiday was excellent and the caravan was of a tremendous standard. This provided a great base for my family for their holiday and my boys are already asking when we can go back!!

Billy Linton
I only book the caravan on the day previous so I count myself lucky to have found Nigel who was very welcoming and the standard of the caravan was outstanding. The position of the plot was great for kids. I would without a doubt try use this company again Especially Nigel as again he was very kind, helpul and always returned my txt or calls. THANKS AGAIN
Our caravan is located just a short walk away from the main reception area and main theme park and there is a frequently circulating shuttle bus to make your journey even more convenient.
Park passes need to be purchased upon your arrival. The price depends on the number of people staying in the caravan (children under the age of 3 are free of charge) These passes will last for the duration of your stay and give access to the theme park, zoo, swimming complex along with all bars and evening entertainment.
As well as the Flamingo Land Park itself you can enjoy:
Indoor Pool
Scenic Walks throughout the stunning local countryside
Golf Course
Amusements
Pubs/Clubs
Takeaways
Historical Attractions.
A none refundable deposit of £100.00 is required to secure booking and the balance which can be paid by installments to be paid no later than 6 weeks prior to the start date of your holiday. A £100 bond is required which is refundable providing no damage, loss or breakages occur during your stay.
Toilet
Toaster
Iron
Shower
Central Heating
Veranda
Gas Fire
Fridge Freezer
Parking Bay
Double Glazing
Microwave
Patio Area
DVD Player
Television Garden Chairs
Bed Linen