Property Name: ABI Derwent Plot MG41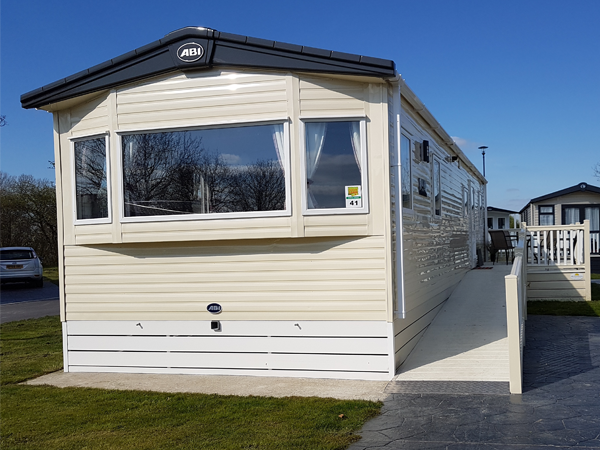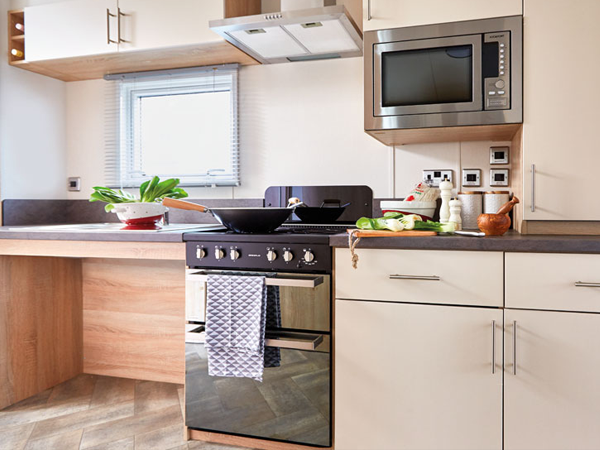 Property Size: 86ft x 12ft
Bedrooms: 2
Max Occupancy: 6
Pets Welcome: NO
Children Welcome: YES
Same Sex Groups: NO
Smoking Allowed: NO
Located in the peaceful Maple Grove site our caravan caters to both able bodies and wheelchair users sleeps up to six people across two bedrooms and a comfortable sofa bed in the lounge area can be the perfect base for a luxurious Flamingo Land stay.
Ramp access allows safe and simple access to the spacious, open plan living area providing maximum freedom of movement, even doors and aisles have been widened to allow wheelchairs to pass with ease. Our master bedroom has a king size bed. In the second bedroom are two single beds.
We include a fully fitted kitchen, central heating and a gas fire in the living room for extra warmth and comfort. Outside you will benefit from the extra space provided by our corner location which includes decking and garden chairs for you to really make the most of the site and the weather.
Our bathroom is set up for maximum comfort. Created as a roll in wet room complete with shower, fold away shower seat and grab rails.
All bed linen is provided but you will need to bring your own towels.
Outside the caravan you can enjoy a veranda with a patio set and mood lighting.
We require a deposit of £100 to hold the booking. The deposit is non refundable should the trip be cancelled.
Additionally we require  £100 security bond which will be returned to you so long as the caravan is left in a clean and tidy state and free of breakages. Your remaining balance can be paid at any time up to six weeks before arrival and incremental payments can be arranged.
Flamingo Land is a family orientated destination and will only allow lets to families of up to six people (seven if the group includes a child under the age of 2). Flamingo Land does not allow single sex or youth group lets, or couples under the age of 25.
Our caravan is located just a short walk away from the main reception area and main theme park and there is a frequently circulating shuttle bus to make your journey even more convenient.
Park passes need to be purchased upon your arrival. The price depends on the number of people staying in the caravan (children under the age of 3 are free of charge) These passes will last for the duration of your stay and give access to the theme park, zoo, swimming complex along with all bars and evening entertainment.
As well as the Flamingo Land Park itself you can enjoy:
Indoor Pool
Scenic Walks throughout the stunning local countryside
Golf Course
Amusements
Pubs/Clubs
Takeaways
Historical Attractions.

maureen pye
The caravan was spacious and very clean although it was a short walk to park there was a bus that picked you up at the caravan and brought you back. The caravan had everything in it and nigel who we hired the caravan from was very helpful and was available at the end of the phone at any time. Flamingo land was great variety of rides for the children and adults the swimming pool and gym was close at hand even the supermarket was inexpensive.There is a variety of places to eat and an excellent zoo. We all had a lovely time and would certlainly stay there again. The added bonus was it was excellent value for money. M @ J

Joanne Watson
Overall a fantastic caravan well presented nice and modern and clean with a ramp for disabled users.
My only fault as my partner is a wheelchair user is that I had to move the furniture around in the bedroom to transfer as there wasn't enough space on the other side could of possibly used the other bedroom with the twin beds and the sink was a bit awkward to get a wheelchair underneath.But excellent value for money I would definately recommend this caravan to others.

e harford
The caravan was lovely, nice and clean,and located in a nice quiet area, I would have no hesitation in recommending the caravan to anyone

Ann Shepherd
We stayed in this caravan with our 2 grandchildren aged 10 & 5 and had a wonderful week. The children loved every minute. The caravan was extremely clean with comfy beds in a very quiet area of the park so sleep came easy. Toilet seat broke while we were there but it was replaced immediately with a new one! 30 mins drive to Scarborough for the beach if wanting a change from the rides! Would recommend without any hesitation.

Rory O'Neill
Trouble free booking, quick confirmation, lovely caravan and we had a fantastic few days away. We'll definitely be back – thank you!
Abi Accessible MG41 Enquiries
A none refundable deposit of £100.00 is required to secure booking and the balance which can be paid by installments to be paid no later than 6 weeks prior to the start date of your holiday. A £100 bond is required which is refundable providing no damage, loss or breakages occur during your stay.
Toilet
Toaster
Iron
Shower
Central Heating
Veranda
Gas Fire
Fridge Freezer
Parking Bay
Double Glazing
Microwave
Patio Area
DVD Player
Television Garden Chairs
Ramp Access
Wheelchair Friendly Features
Roll in shower, Grab rails, Wide doorways, Patient helper,
Further equipment is available for hire:
Free standing height adjustable shower chair with or without backrest and armrests
Wheeled shower/commode chair
Mobile hoist
Transit wheelchair
Electric wheelchair/scooter
Bed raisers